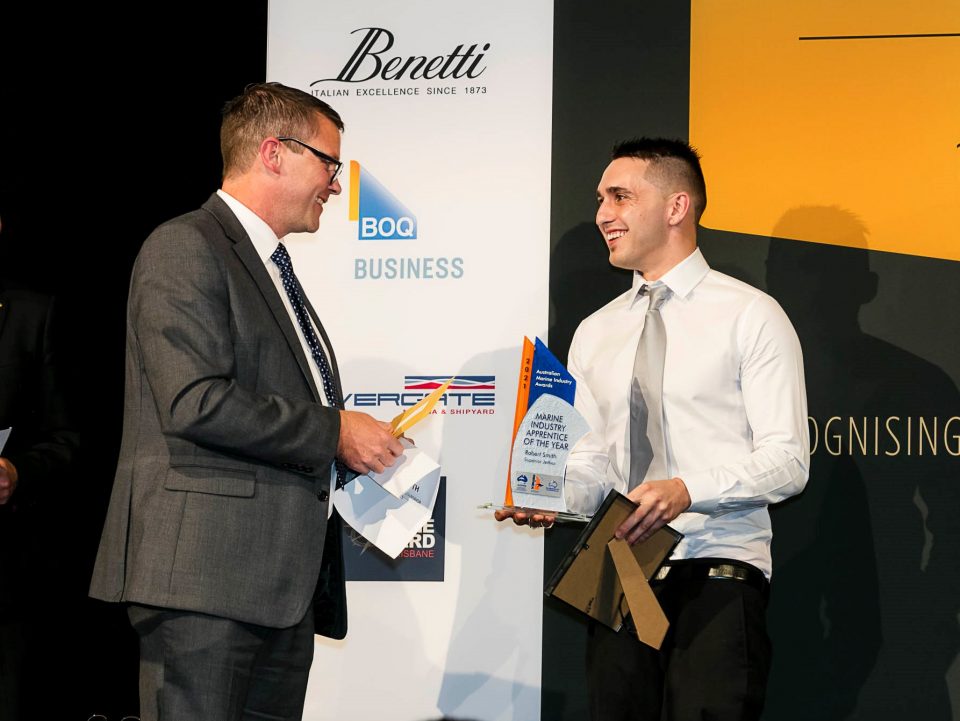 The Australian Marine Industry Awards, a highlight of the ASMEX 2021 Conference at the InterContinental Sanctuary Cove Resort, included for the second year running the 'Apprentice of the Year' Award to recognise and develop youth working in the industry.
This exciting award was presented to Robert Smith from Superior Jetties by TAFE Qld, the presenting partner for the 2021 Award.
Robert joined Superior Jetties as a labourer after four years in the construction industry. Dedicated to learning and constantly applying himself, Robert fast-tracked his training and completed his IC3 Engineering – Fabrication Trade 3 Apprenticeship in June 2020. Robert can accurately and competently complete an entire job from reading and interpreting drawings, actual fabrication/construction through to installation. These skills have allowed him to work on some of the most significant jobs Superior Jetties has recently completed.
Robert's achievement was awarded a trip to Amsterdam including flights, accommodation and transfers to attend the upcoming METSTRADE show in November – the largest marine equipment tradeshow in the world. He will accompany the 2020 award winner, Jasmine Willoughby from Aus Ships.
Robert Smith said, "This apprenticeship has been a life changer and given me a purpose and a real chance to pursue further education and my long-term goals." 
John Hogan, CEO of Superior Jetties said, "With aspirations to become a marine engineer, the skills gained throughout his apprenticeship have contributed significantly to Robert's future study plans.  He is now equipped with the skills and confidence to complete a Bachelor of Applied Science at university and pursue his engineering dreams".
"Superior Jetties is committed to personal development, and we have subsidised education in the past as we did for Robert to allow him to transition."
Young people and industry training have been a passion for John Hogan after being awarded a mature-aged apprenticeship as a boilermaker. Superior employs apprentices, trainees and tertiary work experience students. In previous years, John spent time with Riviera's -fourth-year apprentices, highlighting the career paths in the marine industry.
TAFE Queensland's Gold Coast Region's Director of Business Development, Simon Hislop, said "The Apprentice of the Year" award grants opportunities for those nominated to be acknowledged for their hard work and devotion, as well as celebrating the accomplishments of our future tradespeople whilst encouraging continued excellence and permanency in the workplace."
This year's excellent calibre of finalists were Aiden Barnes – Riviera; Nick Carden – Onboard Engineering; Robbie Beale and Jasmine Willoughby – Aus Ships and Robert Smith – Superior Jetties.
"The value of apprenticeships to the longevity of the marine industry, in particular, is critical and significant," said David Good, CEO of the Australian International Marine Export Group (AIMEX), "and this award category was introduced last year at the 2020 awards as part of our strategic focus on recruitment and training for the industry."
"Apprenticeships are the lifeblood of our industry, and we encourage senior management and key industry players to support the ongoing initiative, which ensures our skilled workers are maintained and recognised for their contribution to the success of the industry."
Australia's most prominent luxury motor yacht builder, Riviera, is a perfect case study. Its highly respected apprenticeship program currently has over 100 trainees and has boosted the talented group of craftspeople at Riviera to more than 800 people today.
Riviera's owner, Rodney Longhurst, who is also a TAFE qualified carpenter and joiner, said, Their training program fosters life-long skills in craftsmanship excellence, qualities for which Riviera is world-renowned.
"Our philosophy is that to build world-class luxury motor yachts, we need to create world-class craftsmen and women so we welcome the next generation of master boat builders to our industry and are proud that they will receive high quality training from our exceptional team. At Riviera, we offer so much more than a standard apprenticeship."
"The success of our program over the past 25 years and our excellent retention rates affirm Riviera as an employer of choice on both the local and global stage. Our apprentices are consistently the recipients of industry awards and recognised as leaders in their trades."
AIMEX sincerely thanks the following partners and sponsors for their support of ASMEX 2021 and the Australian Marine Industry Awards:
Major Partners: City of Gold Coast, Queensland Government, Sanctuary Cove International Boat Show 
Conference Partners: Pantaenius, Tourism Australia
Conference Sponsors: Superyacht Group Great Barrier Reef, Benetti Yachts, Echo Yachts, BOQ Business 
Awards' Presenting Partners: City of Gold Coast, Rivergate Marina & Shipyard, The Yard Brisbane, Steber International, BOQ Business, TAFE QLD, Superyacht Group Great Barrier Reef
Supporting Sponsors:
Quality Marine Clothing, Commercial ROV Australia, Pyrotek, Maxwell, Boatstyle, Tyrrells Wines
For a list of all the 2021 Awards' Winners and further information about eligibility and how to apply for the 2022 Australian Marine Industry Awards go to  www.asmex-conference.com.au