The Australian Marine Industry Directory is produced annually by AIMEX and is the capability document for the Australian marine export and commercial industries. It includes articles on the Australian marine industry's skills and core competencies, the high quality of their products, their latest innovations through current news and content features. This is a glossy full-colour publication comprising pages of news and product images accompanied by a well-constructed and informative editorial.
The Australian Marine Industry Directory also contains one of the most comprehensive lists of Australian marine designers, builders, suppliers and service providers.  The interactive e-book format  allows readers can click through directly to the company's websites for more information and also email the company's contacts.  Use the e-book to make notes, bookmark pages or download the full publication to your device of choice.
The publication is launched in November each year at METSTRADE, the world's largest marine equipment tradeshow and is distributed worldwide via Austrade offices internationally and major marine boat shows. In addition, copies are sent to international media and marine industry businesses around the world. If you are interested in this publication or have an advertising enquiry, please contact croberts@aimex.asn.au or jcooper@aimex.asn.au
---
2023 Australian Marine Industry Directory
View the 2023 issue here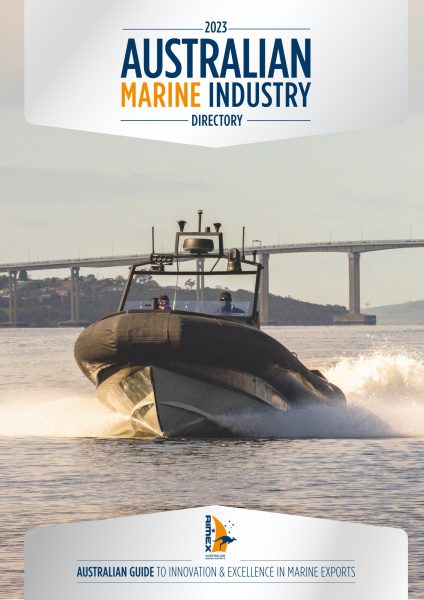 The 2023 issue of the Australian Marine Industry Directory features informative editorial on PFG Group's Sentinel 1100; Riviera's expansion; Doen WaterJets latest projects; Steber International's diversification; Ingot Marine's range of maritime services; Spear Green Design's latest  capabilities; Eclass Marine retrofitting existing outboards with batteries; Maritimo's dealership expansion; award-winning apprentices attend METSTRADE; Vaikobi's latest product developments; plus exciting plans on growing the marine workforce in Australia under a new industry-led initiative.
Equal billing also goes to the latest A-Z Directory section listing over 80 top export and commercial marine service providers including their business profile and contact details plus active email and website links in the e-book version.
The must-have capability document for the Australian marine export and commercial industries!
The 2023 Australian Marine Industry Directory was launched at METSTRADE 2022 on15 November 2022. 
---
View the 2021 issue here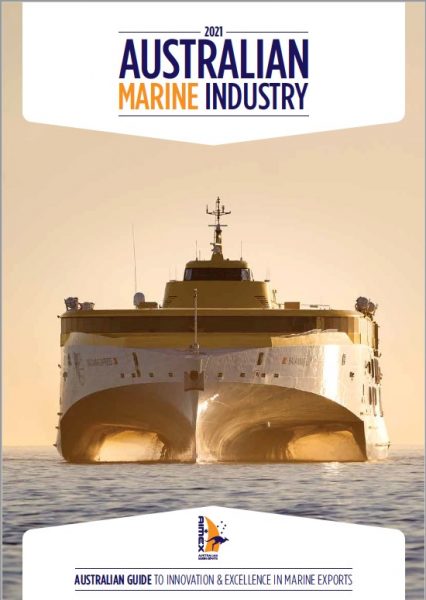 The 2021 AIMEX Industry Marine Directory includes key feature articles from The Whiskey Project Group on new innovative defence vessels and Riviera on their 40 years of evolution in designing, producing and exporting some of Australia's top recreational luxury motor yachts.  
Other sections includes editorial on Austal Australia on their Cape class patrol vessels; local Hervey Bay aluminium boat builder BtB Marine; engine room air ventilation from Marine Air Flow; Fliteboard's new Series 2 product line; VEEM's record-breaking year in 2020; and Doen Water Jets delivery to RDM's Harbour Master II. 
Take advantage of the new flexible e-book format – a first for this issue – allowing readers to navigate easily through the publication and the ability to make direct contact with service providers with just one click! 
---
View the 2020 issue here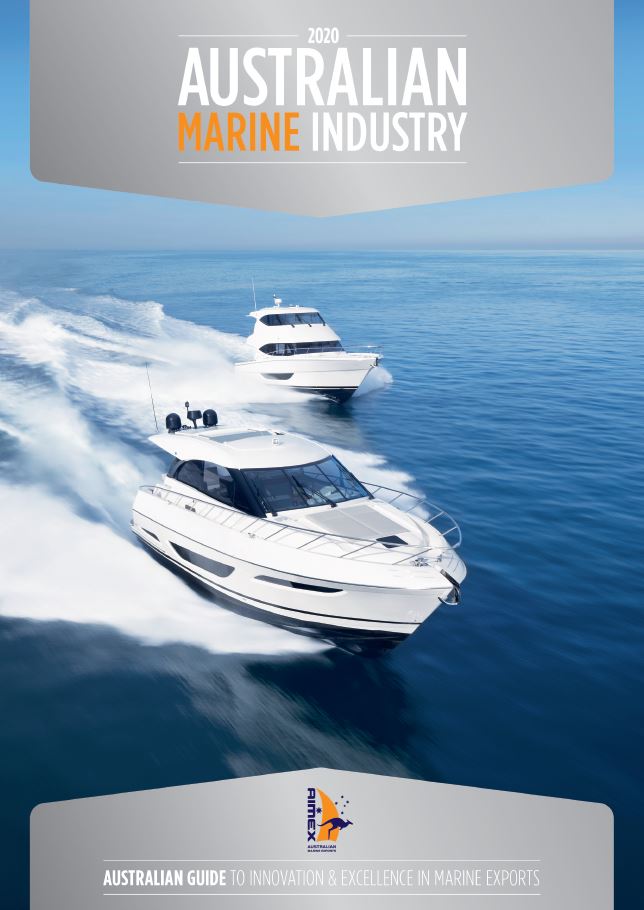 The 2020 issue of the Australian Marine Industry Directory showcases two top Australian motor yacht builders and exporters – Maritimo and Riviera – with their latest designs and products. 
Other companies included in this issue are Austral Propellers, who are celebrating their milestone anniversary of 80 years in the propeller business; Brisbane based Aus Ships Group, their services and latest projects in Queensland; REO Sportsboats and their lightweight sports boat designs; and Barz Optics seeing growth with world-first products. 
Richardson Devine Marine, based in Tasmania, also share their experiences with the relationship between the builder and the operator with their Kilimanjaro Fast Ferries.  
---
View the 2019 issue here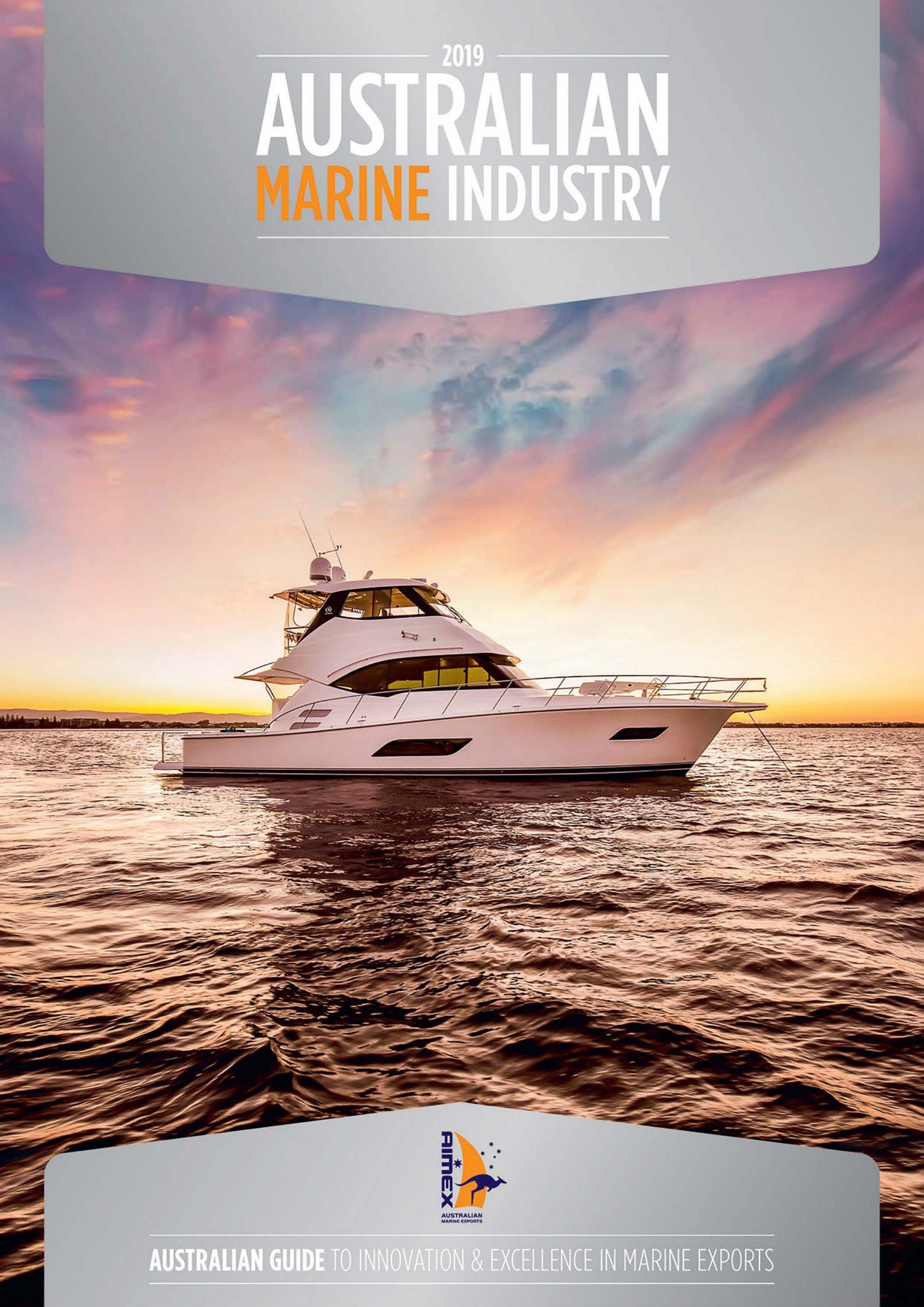 The 2019 issue of the Australian Marine Industry Directory features content on Aurora Global Logistics and their exporting prowess; Echo Yachts as a strong client-focused yacht builder in Australia; and the 2018 celebrations of the 20th anniversary of AIMEX.  We also showcase Australia's commercial marine industry; Start Warrior as a new Australian start-up business with an innovative new product; Australian sailors as a talented presence in most professional sailing teams worldwide and Ronstan and their growth in the Asian market.
Spear Green Design is featured as interior design partners for Australian designed and built ferries heading overseas. In addition, Superior Jetties updates us on providing a facelift to some of Sydney Harbour's foreshore.