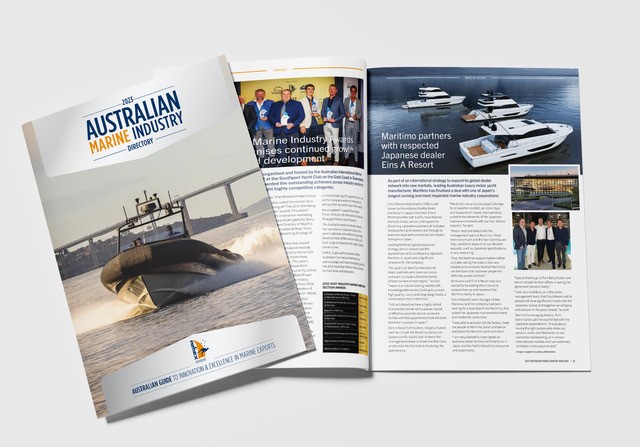 AIMEX is pleased to announce the release of the 2023 Australian Marine Industry Directory on the opening day of METSTRADE in Amsterdam.
Click here for e-book version or visit our Publications page at 
This popular annual publication showcases the latest news and developments in our marine industry promoting Australia's highly skilled workforce, core competencies, premium quality products and cutting-edge innovations.
The 2023 issue features informative editorial on PFG Group's Sentinel 1100; Riviera's expansion; Doen WaterJets latest projects; Steber International's diversification; Ingot Marine's full range of maritime services; Spear Green Design's latest capabilities; Eclass Marine retrofitting existing outboards with batteries; Maritimo's dealership expansion; award winning apprentice's attend METSTRADE; Vaikobi's latest product developments; plus exciting plans on growing the marine workforce in Australia under a new industry-led initiative.
Equal billing goes to the latest A-Z Directory section listing over 80 top export and commercial marine service providers including their business profile and contact details with active email and website links in the e-book version.  Click here for e-book version or visit our Publications page.
The must-have capability document for the Australian marine export and commercial industries ! 
15 November 2022
---