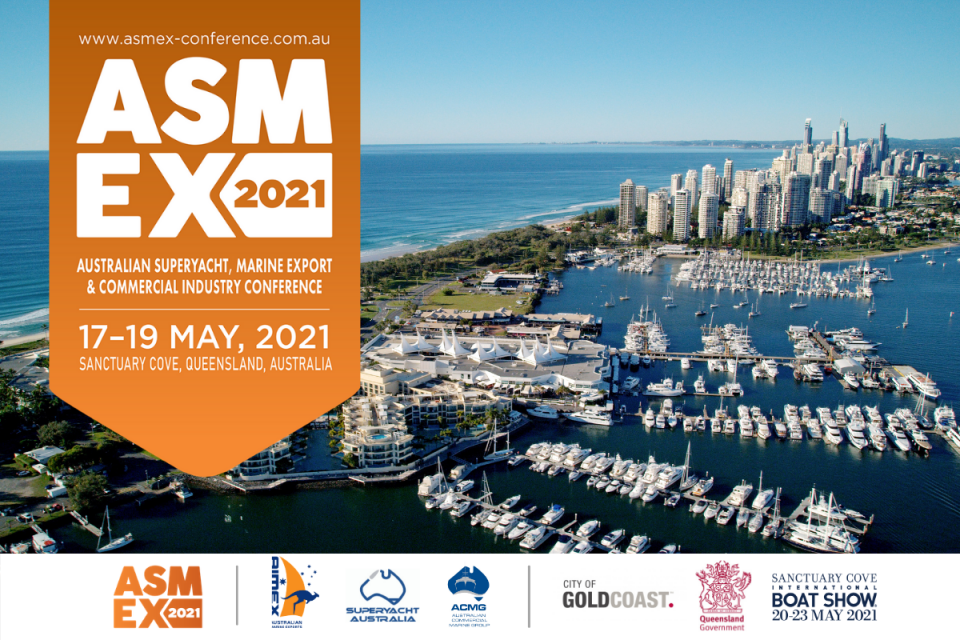 We're so excited to be back ! 
Save the Dates: 17 -19 May 2021
The annual Australian Superyacht, Marine Export & Commercial Marine Industry (ASMEX) 2021 organisers are proud to announce this years ASMEX 2021 will be held on the 17th of May to 19th of May at The Intercontinental Resort, Sanctuary Cove
Registration is now open so book early and don't miss out.  Click here to view more details. 
ABOUT ASMEX 2021
As the flagship conference in Australia for the marine export industry, ASMEX continues to build on its solid reputation for delivering quality and current industry information and invaluable networking opportunities. The conference has gained significant momentum over the last nine years and continues to attract a significant presence of Australian delegates and speakers.
This will be the first conference since the introduction of the Special Recreational Vessel Act that has enabled foreign superyachts to charter in Australia. This change is already having a positive effect on the marine industry and will continue to do so in terms of job creation and in economic spend through the increased provision of marine services, in particular due to the expected rise in superyacht visitation activity in the Pacific region spurred on by the positive handling of COVID-19.
The significant growth experienced in recreational marine activities along with the increased government focus on sovereign capability in the commercial and defence marine sectors will be the focus of discussions on the growth possibilities that the industry stands at the threshold of. We look forward to hosting all ASMEX attendees at Sanctuary Cove in May this year for the 10th ASMEX Conference.