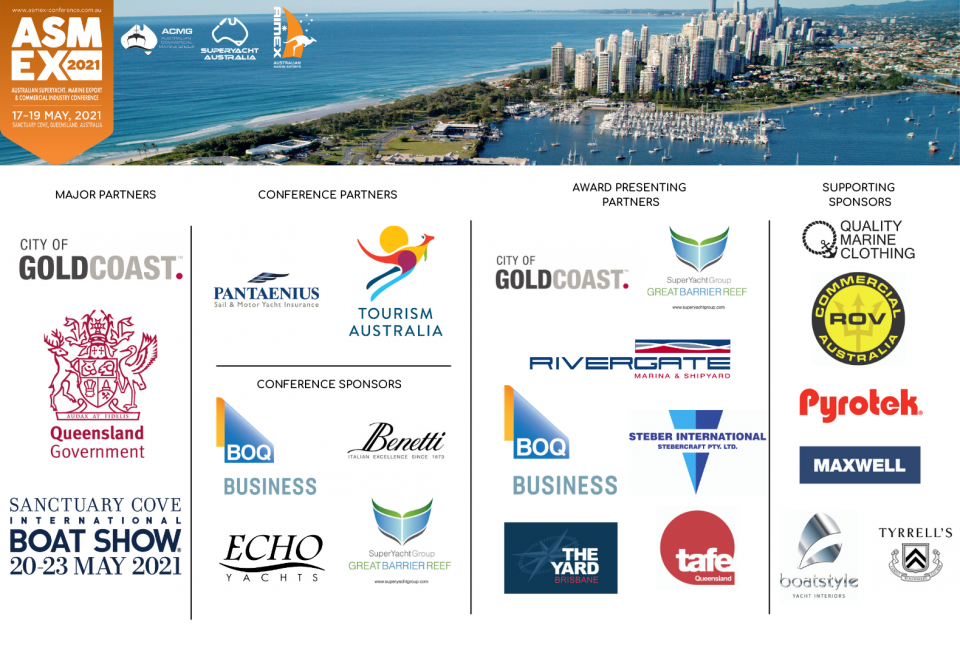 The Australian Superyacht, Marine Export & Commercial Industry Conference (ASMEX), the annual flagship conference in Australia for the marine industry, will this year be held on 17-19 May 2021 at the InterContinental Sanctuary Cove Resort immediately prior to the Sanctuary Cove International Boat Show (SCIBS).
ASMEX continues to build on its solid reputation for delivering quality and current industry information and invaluable networking opportunities. Celebrating its 10th year, the conference has gained significant momentum over the last decade and continues to attract a significant presence of Australian and international delegates and speakers.
This will be the first conference since the introduction of the Special Recreational Vessel Act that has enabled foreign superyachts to charter in Australia. This change is already having a positive effect on the marine industry and will continue to do so in terms of job creation and in economic spend. The further increase in provision of marine services will be due in the main to the expected rise in superyacht activity in the Pacific region spurred on by Australia's positive handling of COVID-19.
ASMEX 2021 is proud to announce the following Conference Partners and Sponsors and acknowledges their generous support ensuring the success of this year's event:
Major Partners: City of Gold Coast, Queensland Government, Sanctuary Cove International Boat Show
Conference Partners: Pantaenius and Tourism Australia
Conference Sponsors: Benetti, BOQ Business, Echo Yachts and Superyacht Group Great Barrier Reef
Supporting Sponsors: Quality Marine Clothing, Commercial ROV Australia, Maxwell, Pyrotek, Boatstyle and Tyrrell's Wines
Gold Coast Mayor Tom Tate says, "The marine industry on the Gold Coast continues to expand. It is rapidly becoming one of our top tier industries, employing thousands of locals.
"Our council, in partnership with the State Government, is investing heavily in projects and facilities to support both the recreational and commercial marine sectors.
"There's lots more to do but we are ready for an exciting future."
AIMEX CEO, David Good says "The significant growth experienced in recreational marine activities along with the increased government focus on sovereign capability in the commercial and defence marine sectors will be the focus of discussions on the growth possibilities that the industry stands at the threshold of. We look forward to hosting all ASMEX attendees at Sanctuary Cove in May this year for the 10th ASMEX Conference. "
ASMEX 2021 will commence on Monday, 17 May with the City of Gold Coast Welcome Function followed on Tuesday, 18 May with the full day conference ahead of the Australian Marine Industry Awards Gala Dinner. Wednesday offers a full day for delegates including a boat yard tour of Riviera's facility at Coomera, a visit to the Gold Coast Motor Museum as well as a networking event
A social highlight of ASMEX is the 2021 Australian Marine Industry Awards Gala Dinner to be held on the evening of Tuesday May 18. The Awards' Dinner celebrates industry excellence in the Marine Export, Commercial Marine and Superyacht Industries.
Presenting Partners for the Industry Awards are City of Gold Coast, Sanctuary Cove International Boat Show, Bank BOQ Business, Superyacht Group Great Barrier Reef, Rivergate Marina and Shipyard, The Yard Brisbane, Queensland TAFE and Steber International.
The ASMEX 2021 Conference Program detailing the speakers and session topics will be released next week.
For more details on ASMEX 2021 visit www.asmex-conference.com.au or to register for this key industry event go to www.asmex-conference.com.au