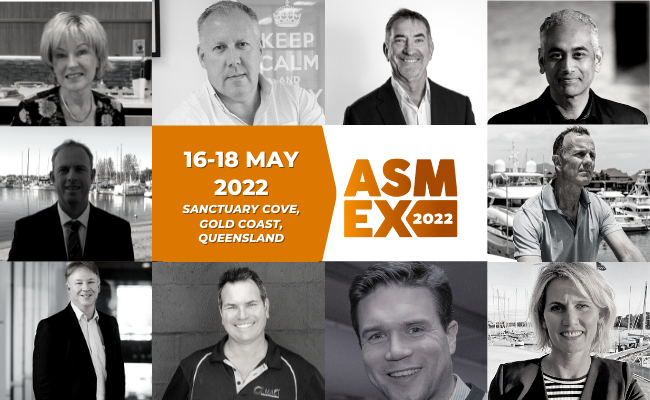 The Australian International Marine Export Group (AIMEX) has announced the first round of speakers for its upcoming annual conference, ASMEX 2022, to be held in May at Sanctuary Cove on the Gold Coast attracting several international industry leaders as speakers.
This year's theme 'Reconnecting with the world' will focus on the direction of the export, superyacht and commercial sectors of Australia's marine industry while continuing to face the challenges of ongoing positive growth.
Martin Redmayne, Chairman and Editor-in-Chief, The Superyacht Group will return as emcee and moderator for the conference. Redmayne said "I am thrilled to be joining ASMEX again this year. It is the pinnacle event for Australian marine industry leaders where they come together to discuss and debate recent growth outcomes the Australian industry is experiencing and future challenges."
Philipp von Arnim, Business Development Manager, Lürssen returns to ASMEX 2022 joining the commercial session 'Innovation in future propulsion technologies' discussing current industry initiatives including fuel cell technology. Other panellists joining this session will include international representatives from Volvo Penta.
ASMEX welcomes home Australian superyacht Captain Brendan O'Shannassy as a panellist on 'Brisbane 2032 – 10 years out' to discuss the expectations of services and facilities by potential visiting foreign superyachts for the Brisbane Olympics, offering key input from both a captains' and an owners' perspective.
Kiran Haslam, Chief Marketing Officer, Diriyah Gate Development Authority will present on some of the largest and most innovative projects in the world currently being undertaken in the Kingdom of Saudi with a focus on the Diriyah Gate Project; embracing change; and the implications for industries, businesses and services in Australia.
 Other key Australian stakeholders who will speak at ASMEX 2022 include Brett James, General Manager, Southport Yacht Club and John Hogan, Chief Executive Officer, Superior Group who will share with delegates the challenges and rewards of the concept, design and build of the newly opened Megayacht berth at Southport Yacht Club on the Gold Coast.
Peter Munckton, Chief Economist, Bank of Queensland will return to the ASMEX stage presenting on the Australian economy including an update on key economic indicators, forecasts and future trends.
With a destination focus on Western Australia, Christine Cole, Project Manager Cruise from Tourism WA and Mick Jones, Managing Director, Marine Agents Australia will share plans and activities to reinvigorate tourism and increase superyacht visitation to their home state with its expansive coastline offering year-round experiences.
Suzanne Davies, Chief Executive Officer, Marina Industries Association in Australia will speak at ASMEX 2022 joining as a panellist to discuss the skilled labour shortages currently being experienced in the maritime industry. Brad Marsden, Director, Marine Air Flow has also confirmed as a panellist for the exporters' session which will examine new challenges, continued expansion and future plans for the sector.
Jeremy Spear, President, AIMEX said "We are thrilled to have international speakers joining us in Australia for ASMEX 2022. The Australian marine industry has such a strong reputation in international markets, it's a credit to our industry that we can attract an overseas presence again so soon."
AIMEX would like to thank the City of Gold Coast and the Queensland Government for their support as Major Sponsors of ASMEX 2022.
ASMEX 2022 will be held from May 16-18 on the Gold Coast in Queensland. The ASMEX 2022 conference day will be held on Tuesday May 17 at the InterContinental Sanctuary Cove Resort, Hope Island, Gold Coast.
For more information visit: https://www.asmex-conference.com.au/speakers/