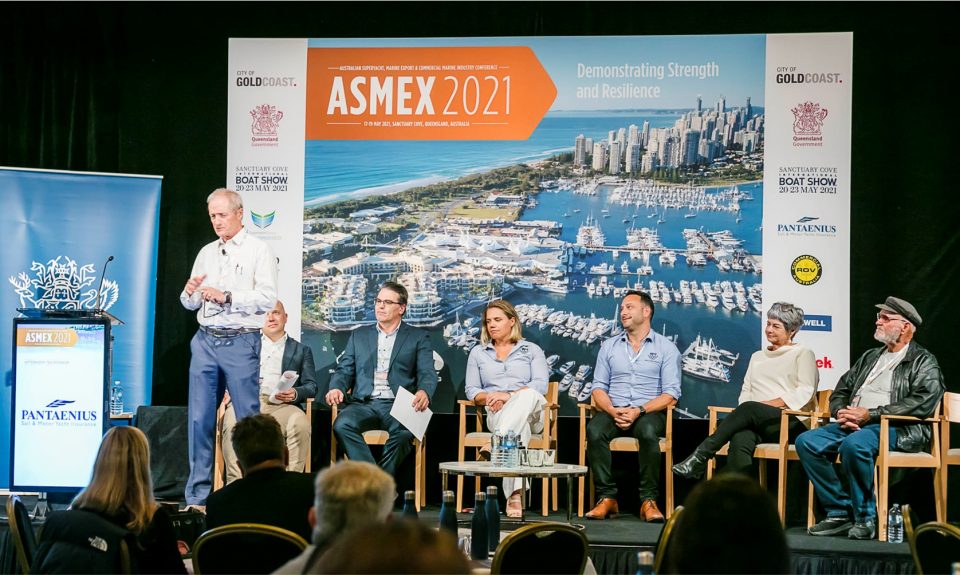 The 2021 Australian Superyacht, Marine Export and Commercial Industry (ASMEX) Conference held at Sanctuary Cove on Tuesday May 18 successfully delivered a diverse and dynamic cross section of speakers and session topics on the Australian marine industry.
Now in its 10th year, the one-day conference tackled hot topics including economic recovery, growth in marine exports, defence innovation, electric hybrid engines, importing a superyacht into Australia and the latest superyacht visitation data for 2020.  
The overall perception from the delegates present was that the Australian marine industry is experiencing strong sales and positive business results as demand for recreational vessels and accessories climbs and government funding for commercial and defence projects continues.
Alistair Murray AM, Chairman of Ronstan and Vice President, Australian Sailing, returned to the ASMEX stage as conference emcee this year, creating lively discussion and a convivial atmosphere amongst both returning and new delegates.
Deputy Premier Hon Dr Steven Miles, Minister for State Development, Infrastructure, Local Government and Planning officially opened the conference outlining the current and future investment plans in marine projects in Queensland that will continue to support the economic recovery for the state.
Peter Munckton, Chief Economist, Bank of Queensland provided an energised and much-needed scene-setter for the sessions that followed with forecasts on the Australian economy.
The Export Panel session was as insightful and as it was positive. Panellists Kane Bygrave, Director, Aurora Global Logistics; Grant Amor, Director, Aqualuma; and Peter Dowdney, Australasian Sales Manager, Ronstan International recounted their first reactions to the pandemic 12 months ago and how their businesses changed as a result. Business change practices ranged from near complete hibernation to full reassessments of every business activity being undertaken.
Exports rebounded quickly after only two to three months but with a strong pick up for Australian products. Scaling up to meet this renewed demand has meant different challenges for exporters as they now face supply chain and delivery of product difficulties plus follow-on price hikes. The panel concluded they did not see demand dropping off as Australian made products have retained their strong reputation with overseas buyers for quality service and product reliability.
Ryan Carmichael, COO and Co-Founder of The Whiskey Project Group was impressive with his presentation and depth of detailed information on the requirements and development of defence solutions. With the purchase of Yamba Welding and Naiad late last year, The Whiskey Project Group now offers an end-to-end sovereign capability under one integrated company.
Chris Blackwell, Sales & Marketing Manager, Echo Marine Group and Sander Toonen, Chief Operating Officer, Silver Yachts represented Western Australia. Blackwell gave an overview on marine activities and updates on the Australian Marine Complex including Austal, BAE and Luerssen / CIVMEC and Echo Yachts as the major ship and yacht builders in Western Australia. Toonen delivered an in-depth presentation on Silver Yachts including its new Explorer Series.
The panel on the latest developments in the electrification of vessel engines was alight with speakers sharing different approaches to the ongoing progress being made in this area. Martin Skoglund, Head of Volvo Penta Oceania and Gavin Rooney, Director Volvo Penta Australia presented the vision for Volvo's continuance in innovation and sustainable power systems. 
Jessica Gatt, Managing Director, Marine Protection Systems spoke on the challenges and solutions for vessel corrosion, the reduction of the environmental impact corrosion has on waterways and preventative maintenance. Lynelle Johnson, Managing Director, E-Class Outboards delivered a frank presentation on the company's newly released electric outboards, their efficiency, range and ease of recharging with comparisons to two-stroke diesel engines.
Captain Richard Morris, Managing Director, Australian Superyachts tackled the importation of superyachts into Australia, the considerations and process, and the current unprecedented boom in superyacht importation largely due to COVID-19.
Martin Baum, Managing Director of Pantaenius Yacht Group presented an update on the superyacht industry in Europe having another record year. Covering the high demand for new builds keeping shipyards busy, Baum noted that local charter had been harder hit possibly as charterers were moving to become owners to enjoy the individuality and privacy of having access to their own vessel year-round.
David Good, CEO, AIMEX released the new superyacht visitation data for 2020 showing foreign flagged superyachts stayed an average of 128 days in 2020 compared to an average of 73 days in 2019. This represents a 75% increase in the length of stay, translating into a contribution of over $100M to the Australian economy.
Returning to ASMEX by video was Martin Redmayne, Editor-in-Chief, The Superyacht Group and Kiran Haslam, Chief Marketing Officer and Board Member for Environment, Princess Yachts. Redmayne shared his latest research findings from the 'New Builds' publication and newly released 'The Pacific Superyacht Report' with indications that expectations for the future are bright for the region as owners look to use their vessels more to travel further afield from their stock summer and winter locations. Haslam presented an upbeat speech on the merits and attractiveness of Australia as a superyacht destination and why 'Australia has it all'.
Delegates were feeling very positive on the industry as the conference concluded. Matthew Hyde, Technical Director, Seahub Software said "ASMEX 2021 was a great event for the Seahub team. The calibre of the presenters was incredible. Having such a diverse group of discussions, including how so many have successfully navigated the challenges of the last year was a refreshing and extremely rewarding experience."
Mark Stothard, CEO, Echo Marine Group agreed. "I found the conference to be both uplifting and informative and after hearing from various sectors in the industry, it is evident that the industry is in very good shape and the outlook is also looking positive."
Andy Stephens, CEO, Maxwell Marine International added "We are proud to sponsor such an event where the stalwarts of the industry give, share and exude such positivity, optimism and enthusiasm."
ASMEX 2021 thanks the following Conference Partners and Sponsors and acknowledges their generous support which ensured the success of this year's event:
Major Partners: City of Gold Coast, Queensland Government, Sanctuary Cove International Boat Show
Conference Partners:  Pantaenius and Tourism Australia
Conference Sponsors: Benetti Yachts, BOQ Business, Echo Yachts and Superyacht Group Great Barrier Reef
Supporting Sponsors: Quality Marine Clothing, Commercial ROV Australia, Maxwell, Pyrotek, Boatstyle and Tyrrell's Wines
Images below:  ASMEX 2021 Conference Speakers