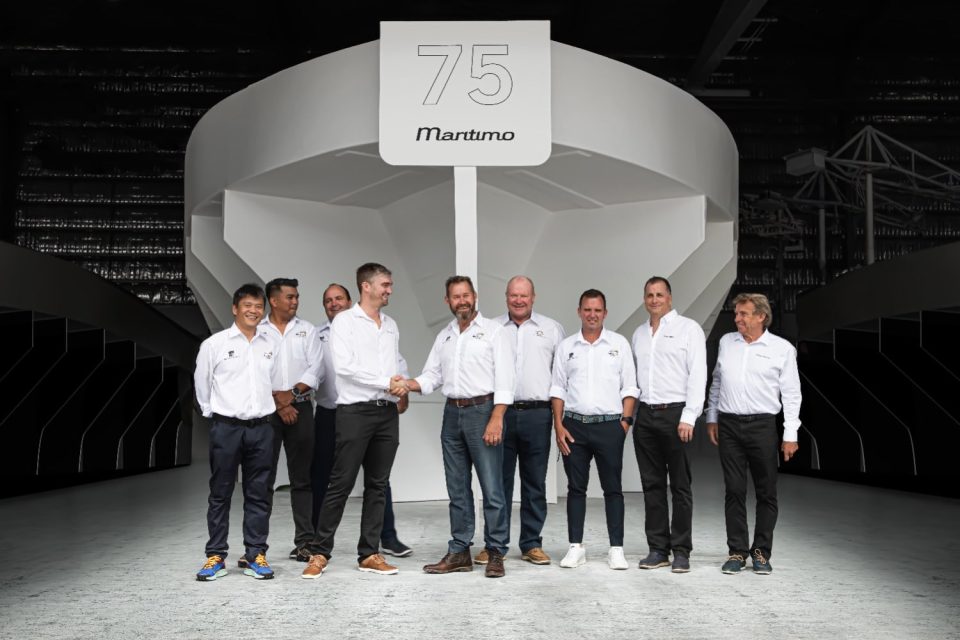 Maritimo forges ahead with its strategic push into Asia by appointing The Yacht Sales Co as their exclusive dealer for South East Asia.
Leading Australian luxury motor yacht manufacturer, Maritimo, has appointed The Yacht Sales Co as its exclusive dealer for Singapore, Malaysia, Philippines, Indonesia, Thailand and Hong Kong. This is the next major move as part of the long-range motor yacht builder's expansion plans for South East Asia.
"We have selected The Yacht Sales Co because they are well established in the key boating centres throughout South East Asia. They have developed a wide-reaching sales and service network," said Derrick Nowak, Maritimo's Business Development Manager – Global.
"With multiple locations across South East Asia, and specifically in the boating hubs of Sentosa, Singapore and the island of Phuket in Thailand, they are best positioned to support clients anywhere in the region to the degree they expect and deserve, and to the level that is Maritimo," said Nowak.
"We are excited to know that Maritimo owners will have a consistent experience with The Yacht Sales Co across the region, no matter whether they live in Hong Kong or Singapore and then keep their Maritimo in Thailand, The Yacht Sales Co is the right choice, as they have a huge database of clientele to show our unique, handcrafted, long-range motor yachts to. This is a wonderful way to kick off our 20th Anniversary celebrations," said Maritimo Managing Director, Tom Barry-Cotter.
Stemming from a long-standing presence in South East Asia with sister company, Multihull Solutions, The Yacht Sales Co is uniquely positioned to assist customers obtain the boat of their dreams, and help them pass on their current craft to a new custodian. The Yacht Sales Co was founded to offer dedicated monohull specialists to clients, and be completely agnostic to platform, and even more driven to placing customers into the best boats for them.
Presently, the market is very much attuned to the benefits of traditional, inline shaft drive, blue water seaworthiness, and the volumes afforded by Maritimo's new styling. Local buyers are seeing big boats very favourably, with the new M75 and S75 just as eagerly awaited there, as they are on both sides of the Pacific Ocean.
The Yacht Sales Co CEO Mark Elkington said, "Our Group has been working in South East Asia for over ten years, initially with a focus on the multihull market. Over recent years, we expanded our activities to become a broader all-inclusive, high-end sales and service operation. Our team was in agreement that there were only a few select brands that would truly complement our portfolio and be a great fit for this growing market of ex-pat and local buyers.
It was a timely coincidence that Maritimo was also undertaking a review in the South East Asia region, which has led to this new partnership announcement. Our team is thrilled to have been selected to assist Maritimo with its development and future growth in South East Asia, and we are proud to be able to represent this Australian brand that was founded by industry legend, Bill Barry-Cotter.
I have personally used Maritimo as a reference for 20 years when discussing new designs and features with shipyards around the globe. Maritimo just keeps evolving with every new model release and are proven to be high-quality, offshore, no-nonsense craft. You would not expect anything less from Bill's legacy, which is now continued by Tom Barry-Cotter and his team. The more time you spend on these boats, the more you understand the Maritimo ethos and appreciate why they are clearly the leader in Australian boat building and design.
I look forward to building on this relationship with Tom. He is a true gentleman and visionary, and I know he and his team will keep buyers coming back to one of the most experienced, luxury motor yacht brands available in the market today." said Elkington in closing.
"With The Yacht Sales Co's help, Maritimo owners in the area will be able to enjoy that special, hand-crafted Maritimo difference. Personally, I cannot wait to be part of the first Maritimo Migration in the area in the years to come. Asia has so many wonderful cruising grounds, so it is hard to select one's favourite," continued Nowak.
The appointment of The Yacht Sales Co is the second for the expansive Asian market, after the well-known marine organisation, Eins A Resort, was appointed in 2022 as Maritimo's representative for Japan. Maritimo has sold four yachts into Asia since launching its growth plans for the region.