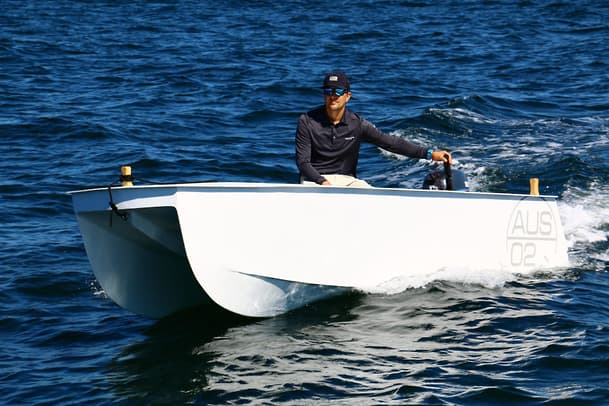 Lightweight twin-hulled tender to come with the sedan and flybridge versions of the reborn Scimitar 1010
Say a warm hello the "Minitar", a lightweight tender designed specifically for the reborn Scimitar 1010 cruising catamaran launched at the Sanctuary Cove International Boat Show.
You're looking at hull No.1 of the new tender that the Aus Ship Group, which has resurrected the 10.0-metre cruising power catamaran for the modern era, hopes will shuttle owners to and from shore.
The 3.75-metre tender is made using the same foam core technology, sandwiching a layer of lightweight foam in between an inner and outer fibreglass skin, that is used to keep the Scimitar's displacement below 7000kg light.
Related content:
Aus Ships Group director Tom Ericson says the tender, a prototype built to test the concept of a mini-Scimitar, could one day be added to the options list for Scimitar buyers.
"We call it the Minitar," Ericson says. "It's really stable and great fun to drive.
"This is only a prototype, but we're looking at bringing it into production and offering it as a tender for the Scimitar."
Fitted with a small outboard engine, the entire package weighs only 120kg. The Minitar's hull alone is only about 80kg, making it easily manageable.
Scimitar used the 2022 Sanctuary Cove International Boat Show to launch a much-improved version of the original Scimitar 1010 Flybridge. The all-new Scimitar 1010 Sedan, launched alongside it, is a derivative of the original flybridge-equipped model that was last in production a decade ago.
Over almost two decades of production, 65 of the powered cat cruisers were built.
Specifications
Model: Scimitar 375 Tender
Length: 3.75m
Beam: 1.5m
Weight: 80kg (est, hull only)
Passengers: 4
Story by: boatsales.com.au | Images supplied by: Aus Ships Group