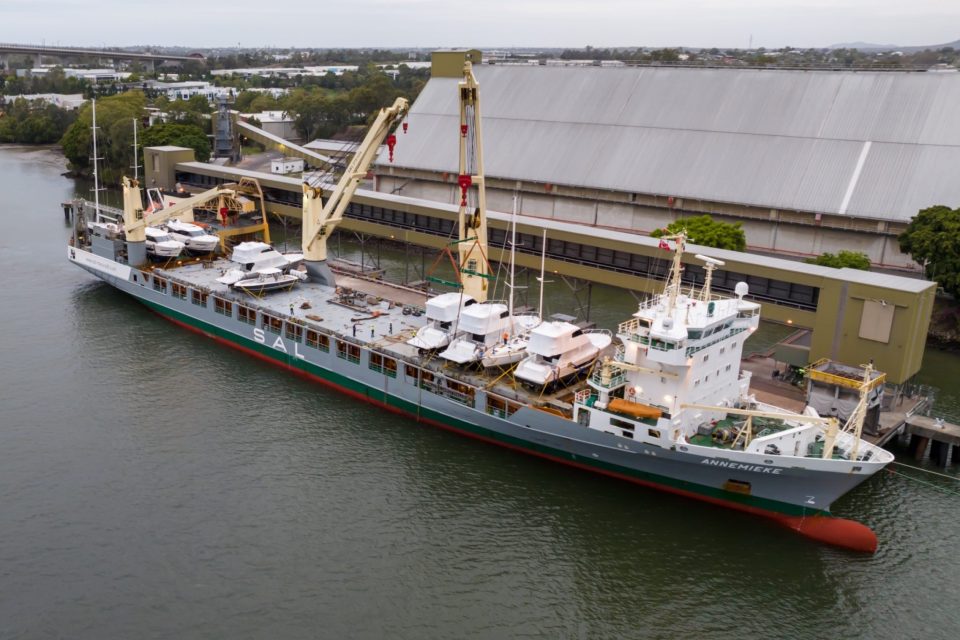 Maritimo, one of Australia's leading builders of long-range, luxury motor yachts exports boats worldwide – around half of its annual production.
This week, six Maritimo boats, around 180 tonnes worth, to the value of US$18 million will be shipped to the US from the Port of Brisbane where they will be welcomed by Maritimo's dealers across the country, before being delivered to their proud owners.
In January, another shipment of seven Maritimos will head to the US, valued at over US$21 million.
Outside Australia, the US is the next biggest market for Maritimo. New Zealand is also an important and growing market. The majority of Maritimos travel across the Tasman to New Zealand on their own hull, which is a testament to the offshore cruising capabilities of these Australian-designed and built vessels.
Tom Barry-Cotter, Managing Director at Maritimo, says the appetite for Maritimo boats in the US and Americas is only increasing.
"Whether owners cruise the west coast, the east coast, the Caribbean, the Great Lakes or the Great Loop, they appreciate the quality construction and Maritimo hallmark features such as wide-walkaround decks, unparalleled engineering and fine craftsmanship," Tom said.
"We have a healthy production schedule for 2023/4 and are looking forward to releasing new models at the 2023 Sanctuary Cove International Boat Show in May, before exhibiting at select US and other international shows during 2023."
According to a 2017 KPMG report, Australia's marine manufacturing industry contributes $1.7 billion to the Australian economy, delivers $575 million in exports and directly employs 14,600 workers.
The Gold Coast's boat building industry is estimated at GRP $846 million and employs 3,377 people directly, and many thousands more contractors and suppliers. The City's marine industry has leaped ahead in the past few years and is the busiest it has been in the past 40+ years.
The Gold Coast is home to the largest concentration of marine trades in the country and has firmly established itself as the marine capital of Australia.