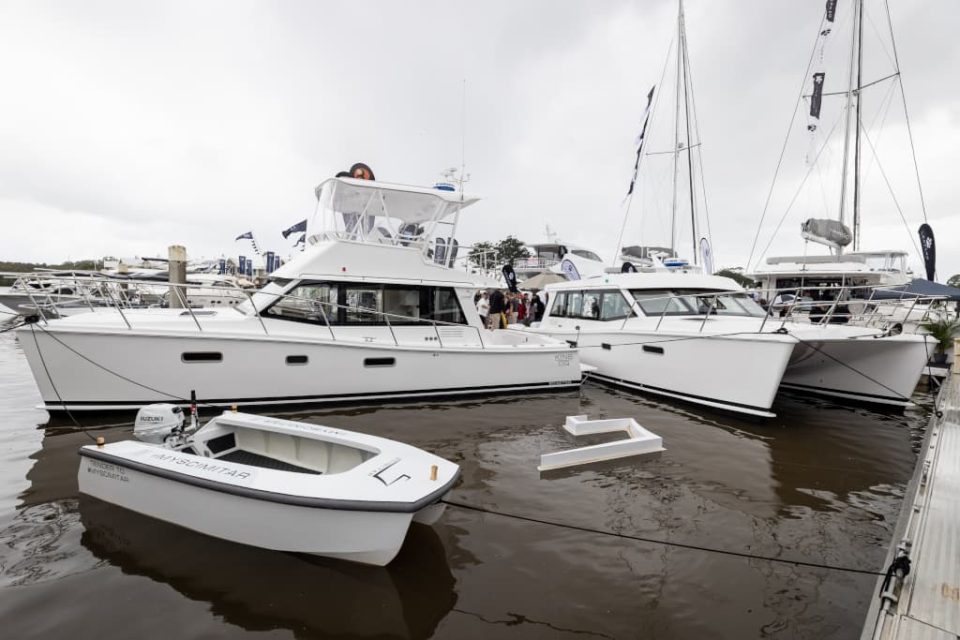 The Scimitar 1010 powered catamaran is back in production, featuring a new 10.0-metre sedan alongside the original long-range flybridge cruiser.
The reborn catamaran looks very similar to the original but contains a number of improvements and engineering tweaks aimed at enhancing the liveaboard experience without losing any of the charms that helped the brand sell more than 60 hulls.
We loved the original, so the similarities of the new Scimitar 1010 to the old one are important.
Related content:
The Scimitar 1010 is under new ownership, built as a separate hull and deck at Brisbane-based shipbuilders Aus Ships Group's Yatala yard before being transported to the group's yard at Rivergate in Brisbane for fit-out.
The brand's 2022 Sanctuary Cove International Boat Show revival was made possible after the Aus Ships Group added composites manufacturing to its list of services available to boat owners seeking fibreglass refurbishments and conversions via the yard.
2022 Scimitar 1010 Flybridge
Even when it was launched by Bryan and Linda Bradford in 2002, the vacuum-infused resin composite Scimitar 1010 wasn't cheap, costing around $440,000. The new one is priced from around $1.1 million for the sedan and $1.3 million for the flybridge version, but with big improvements aimed at making life onboard better and cruising easier.
"Even though it comes at a cost, it also comes with the quality attached to it," Aus Ships Group director Tom Ericson says.
Completely re-engineered
The tweaks are based on more than 10,00 nautical miles of cruising with one of the original boats that Ericson's team bought about four years ago and used as a base on which to build the new version.
"We've basically re-engineered it from the ground up and looked at a number of different things from layout systems fit and finish, all those sorts of things, to … bring it up to the modern-day," he says.
Changes include larger duckboards and a bigger live bait tank, and windows that now integrate with the hull rather than slipping into frames. The spray deflectors fitted low on the bow are also larger compared with the original model, improving onboard comfort. 
While the flybridge version of the Scimitar 1010 looks remarkably similar to the original, the sedan looks low and sleek by comparison – Ericson describes it as more of a "Moreton Bay cruiser" style of boat.
The sedan was built for a Gold Coast-based owner who is keen on fishing. Optimised for long-range cruising, it includes a larger fuel capacity, a genset, air conditioners, 800 litres of fuel and another 800 of water, and "big icemakers and big freezers on the back deck".
The modular boats have three options for internal layouts.
Cruising focus
One of the big factors in the new version of the Scimitar 1010 is cruising range. Several engine options are available, but the boat on show is fitted with twin 195hp Yanmar four-cylinder diesel engines driving shafts, which Ericson says will cruise at about 16 knots using less than 30 litres an hour combined, "which is sort of trailer boat figures".
This is all achieved in a boat weighing less than 7000 tonnes light.
Part of the high-speed running performance comes from Zip Wake Interceptor trim tabs fitted to the Scimitar 1010, helping to control pitch and roll and drawn directly from the Aus Ship Group's work on high-speed passenger ferries and patrol boats.
"Particularly on small boats that are weight-sensitive, when you have a huge back deck like this it gets filled up with people or gear," Ericson says.
"So the Interceptors provide that lift and keep that optimum running trim, so you keep that efficiency at all times," he said. 
"They also now with the speed at which they operate, they reduce roll in a sea state quite well."
Onboard accommodations include two double berths and two singles, with one of the big improvements over the old boat being access to the engines, particularly from the front. Changes to the fuel tanks and removable bulkheads now vastly improve access.
More to a door
Another big improvement over the old boat is the deck-level shower and head. 
"The original boats … had the [head access] door on the deck, probably the most polarising part of the boat," Ericson says. "Some people, you either loved it or you hated it. 
"We've moved the door to just inside [the saloon space]. It's still an option to have one outside, but by moving it inside you've got the option to set up a small lounge here [in the cockpit] or a big fridge-freezer." It also allows space for a large window to ventilate the head.
Another key change – and something that goes part-way to explaining the price tag – is a decision to fit out the Scimitar 1010 with lightweight lithium-ion batteries, and hook them up to a "signifciant" 1.0kW solar recharging system. This means owners have the choice as to whether they need a genset.
Even on this new Scimitar 1010, there's enough 12-volt grunt onboard so that the genset is used more like a battery recharger than an AC power source.
In another first, the Scimitar 1010 is also trialling a silicone-based hull wrap instead of traditional antifouling. 
"A lot of commercial boats use vinyl wraps on the top sides instead of paint," Ericson says.
"This is the first time they've trialled silicone-based antifoul and it's given about nearly 12 percent improvement on performance [compared with when the boat had no antifoul].
"It's pretty amazing. The claim is five-year docking cycles, but the proof is in the pudding. We'll see how it goes but this boat's only been in the water for three or four months, so it's pretty new."
Turn-key cruising
Ericson says the new Scimitar 1010 is built as a boat that owners can step aboard and go cruising as soon as they take delivery.
"We're trying to build a boat that someone can grab the key and go cruising without having to tick any more boxes," he says.
"They don't have to go and spend another $100,000, $150,000 before it's usable, so to speak."
Story From: New & Used Boat Sales – Find Boats For Sale Online – boatsales.com.au