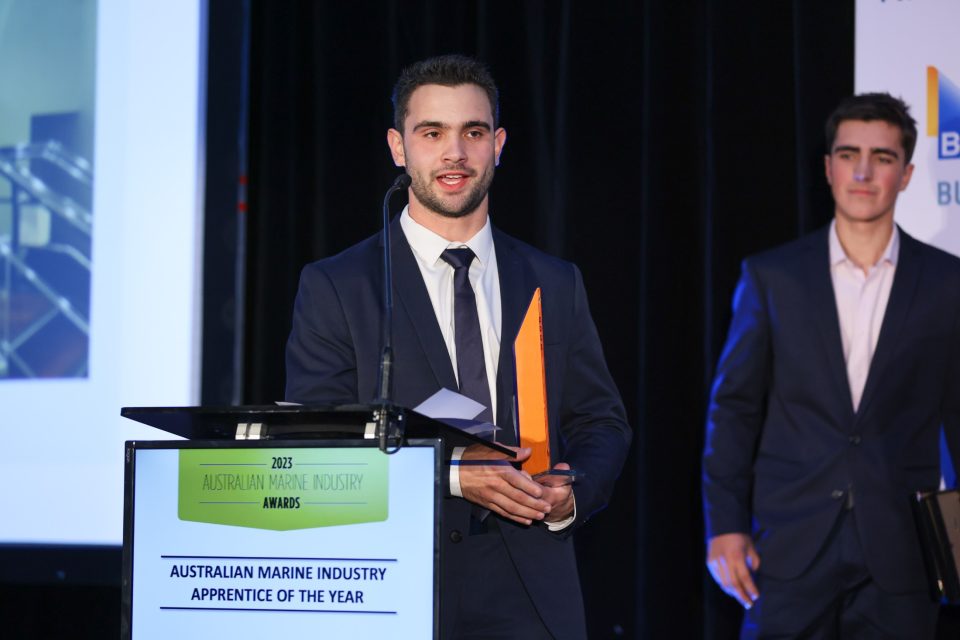 The Australian International Marine Export Group (AIMEX) takes pride in organising and hosting the Australian Marine Industry Awards, which covers a wide range of categories, including superyacht, commercial marine, and marine export sectors. Among these categories, the 'Australian Marine Industry Apprentice of the Year Award' holds tremendous significance, as it recognises and supports the growth of emerging talent within the Australian marine industry. This year, AIMEX received a record number of submissions in the 'Australian Marine Industry Apprentice of the Year' category, reflecting the exceptional talent within our industry.
The winner of the award is granted an extraordinary opportunity including complimentary return flights and accommodation to Amsterdam, where they will join the Australian industry delegation at METSTRADE 2023. METSTRADE is the world's largest trade show for marine equipment, materials, and systems. For these young apprentices, this highly sought-after award presents a transformative experience, allowing them to explore the international marine industry and propel their careers to new heights.
---
Considering the remarkable number of submissions received for the 'Apprentice of the Year' category, AIMEX would like to acknowledge the finalists from each state:
Lachlan Wilcock from Onboard Engineering, New South Wales
Matthaus Mayer from Riviera, Queensland
Will Penfold from Penfold Marine, Victoria
Brent Studman from Echo Marine Group, Western Australia.
---
As a testament to their hard work and dedication, AIMEX provided travel for state finalists to attend the Australian Marine Industry Awards Gala Dinner where they were honoured for their remarkable contributions to the marine industry.
AIMEX CEO, David Good expressed, "This is an incredible chance for young, future industry leaders to participate in METSTRADE alongside Australia's most successful marine exporters. It has been impressive to see the confidence and growth within previous winners after attending METSTRADE. It has inspired them to continue to strive for excellence within the industry, making a lasting impression and personal connections they will likely maintain throughout their careers."
The winner of the '2023 Australian Marine Apprentice of the Year' is Brent Studman from Echo Marine Group, Western Australia. Brent, a third-year apprentice cabinet maker in the fit-out department, has displayed exceptional dedication and craftsmanship throughout his apprenticeship journey.
His passion for the marine industry was ignited during his schooling, where he engaged in sail training voyages and volunteered on the renowned Sail Training Ship, Leeuwin II, earning a certificate of achievement and fuelling his love for all things marine. Starting as work experience, Brent's remarkable efforts led him to a full-time apprenticeship, and his commitment to excellence was recognised with the Duke of Edinburgh Gold Award. With a commitment to quality, Brent consistently delivers outstanding work, continuously improving his knowledge and skills. His contributions will leave a lasting impact on the industry.
Chris Blackwell, Sales and Marketing Manager at Echo Marine Group, expressed "Echo Marine Group were thrilled to see Brent nominated as a WA finalist for the Australian Marine Industry Apprentice of the Year Award and witnessing Brent on stage receiving the overall national award and well-deserved recognition was truly a privilege, and we are proud to have him representing our company at METSTRADE this year."
In addition to participating in the world's largest trade show for three days, the apprentice will have the incredible opportunity to engage with the Young Professionals in Yachting (YPY) Club. This vibrant community brings together young up-and-coming professionals under the age of 35 within the marine industry, facilitating both online and offline networking opportunities to foster growth and collaboration.
AIMEX remains committed to encouraging and empowering the next generation of marine industry professionals, ensuring a thriving future for the Australian marine industry.
For more information about the awards, click here
---