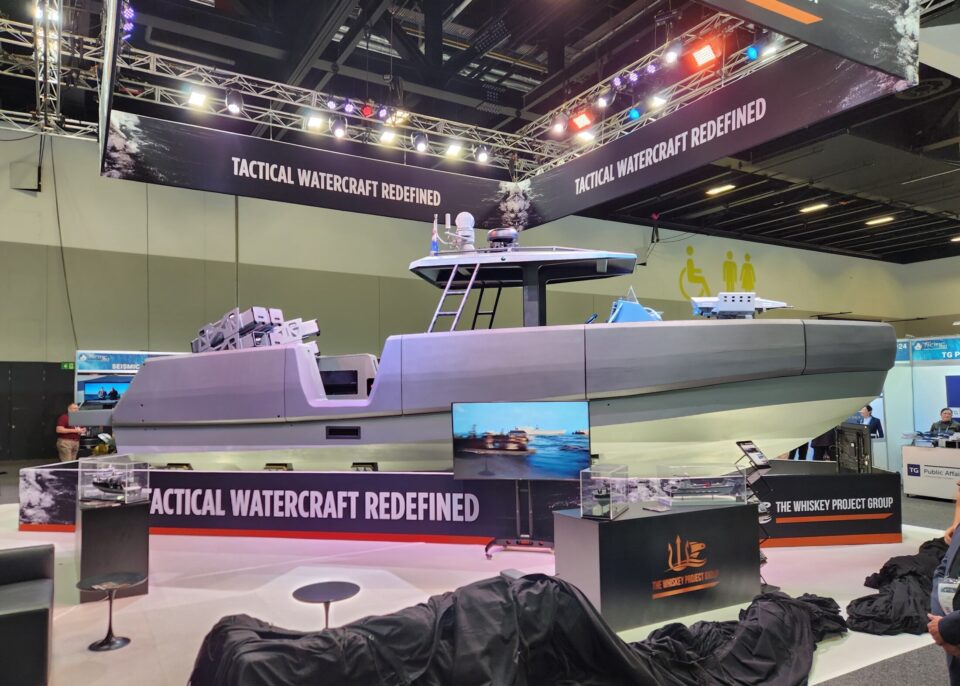 A cutting-edge small combatant vessel designed to excel in expeditionary operations and littoral manoeuvre warfare was the star attraction at last week's Indo Pacific 2023 International Maritime Exposition held in Sydney.
The new vessel, unveiled on 7 November as the Whiskey Bravo – Strike, is the product of a collaboration between Australian watercraft supplier The Whiskey Project Group (TWPG) and Rafael Advanced Defense Systems.
Intended to provide a precision strike capability, the Whiskey Bravo – Strike combines the innovative Whiskey Bravo vessel with Rafael's combat-proven Spike NLOS electro-optic guided missile system. This enables the Whiskey Bravo – Strike to deliver offensive fires and precision strike missions at sea and in the littoral against a variety of maritime and land targets yet be readily deployable and cost effective.
Already selected by the US Marine Corps, the baseline Whiskey Bravo vessel, TWPG believes, is the natural solution for the Australian Army's Land 8710 Phase 3 project and other allied small boat requirements, ensuring high interoperability and interchangeability for regional coalition operations.
Whiskey Bravo – Strike vessels could be hosted by large landing craft or other amphibious platforms as required to provide organic protection to a landing force, thereby enabling a key element of the 'impactful projection' operational strategy.
The 11.9m Whiskey Bravo vessel is able to accommodate twin 4-round Spike NLOS canister launchers on the rear cargo deck and still have room to carry six fully-equipped operators on shock attenuating seats amidships plus two crew seated forward at the console.
Spike NLOS is in service with the US, UK, Israel and South Korea. The new 6th generation Spike NLOS is capable of engaging targets out to 32km when surface-launched, affording the launch vessel a safe stand-off range well outside ship self-defence weapon systems or land-based defensive weapons.
For further information, contact Ryan Carmichael, The Whisky Project Group
www.thewhiskeyprojectgroup.com